First things first:
We're hosting a FREE Zoom training this week:
5 Steps to Grow and Transform Your Art Business
The details for this training are: March 31st 2021 at 8pm NYC time
(see your timezone here; this one will be convenient for those in Americas and Asia)
Here is what people thought the last time we ran it:
"I love the way this training was presented – precise, to the point and in layman's language. Easy to understand in a way that instilled confidence."

"Lots of REAL information. Many things to think about after listening to this webinar."

"Perspective on the big picture of art income and how all the different parts can fit into the whole. The content was great."
The last time we ran this training, over 700 people registered,
— but we only had slots for 200 to show up live.
So if you're interested, click here to save your spot right now.
Now…
Can you believe the first three months of 2021 are gone?
We can't, either. And in that time,
our students have been getting results like this.

It's a unique time in history for working artists like them (and you).
A little perspective…
If you'd been born a thousand years ago?
Your one shot at a professional artist career was finding a patron.
Royalty and religious leaders would commission you to create…
… whatever THEY wanted.
Nothing like working under contract for someone who could have you beheaded.
Born 400 years ago?
An art market was beginning, with dealers, art fairs, exhibitions, and auctions.
And this became The Way Art Was Sold.
It wouldn't really change much for centuries.
And to meet the people who would help sell your art (for a fee),
you had to live in a major city.
You could also die broke and achieve fame afterwards — not an ideal strategy.
Alive in the 21st century?
Well, you're in luck 🙂
The Internet has revolutionized your possibilities.
Today, you can promote your own work easily,
and sell directly to collectors.
But you do need the three elements we talked about earlier this month.
The 3 Keys to Selling Art Online
A website establishing you as a professional artist
An Instagram presence connecting you with other art lovers
A private email list for more intimate dialogue with fans
And they all work together.
Imagine each one — website, Instagram, email list —
as a tube of paint in a primary color.
With all three, you can create any shade you want.
But if one tube is missing, or the paint is old and dried out…
you'll only be able to mix up part of the spectrum.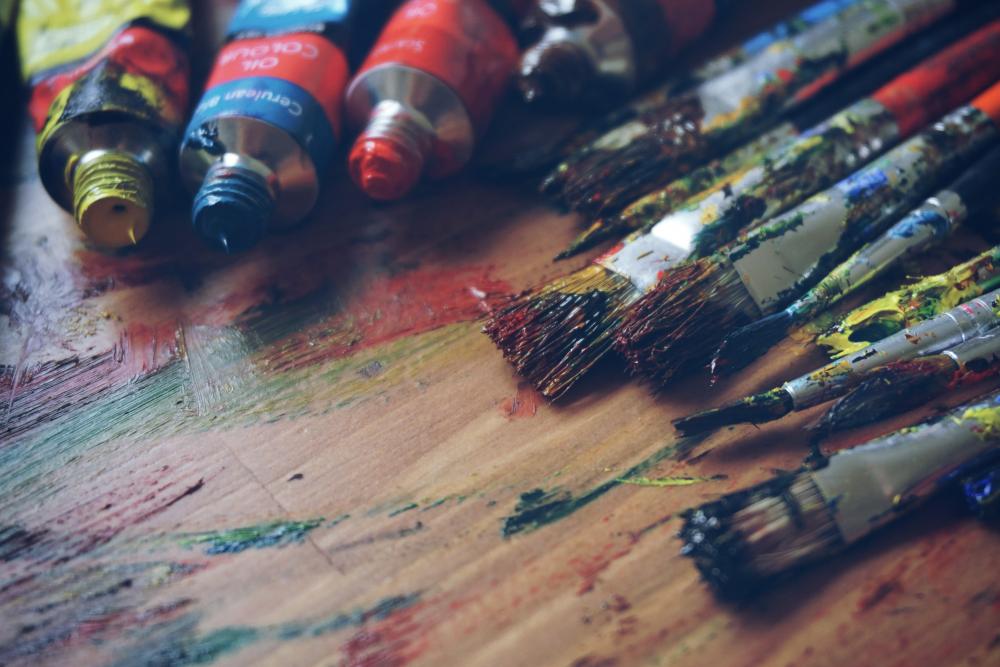 And then, your art business won't show up in full color.
If you're on Instagram and someone loves your work?
They'll go check out your website.
But if you don't have one, or it's outdated?
They won't visit again…
A perfect website, but no social media or email list?
Well done on the website!
But, how will people find you?
A stunning Instagram page will attract people who've never even heard of you.
No email list, just a website and Instagram?
You need one ASAP, so you can communicate privately with collectors,
even when search engine or social media algorithms change.
Blending It All Together
It's tempting to focus all your efforts on social media, especially Instagram.
You've seen other artists going viral,
waking up to find the whole world wants to buy their art.
But would you be ready for "overnight" success?
If your current website doesn't represent you very well,
or you don't have a way to collect email addresses from your fans,
that wave of success could be long gone before you can grab a surfboard.
So you need a solid system with all three fundamentals.
When you have this,
your online art sales will begin to run more smoothly,
and freeing you to focus on creating new work.
People will discover your art, in person or online through social media.
You'll keep in touch through your private email list.
Then you'll invite them to your site, where they can buy your art or workshop.
Simple — but tough to figure it all out alone.
If you've already tried to build an online presence,
without seeing the results you're hoping for…
especially when the effort drains you…
it's time for a different approach.
---
After working with hundreds of artists,
we've seen what leads to impressive sales and opportunities —
both in person and online —
as well as what tends to be a waste of time, energy, and money.
So join us for our live Zoom webinar,
5 Steps to Grow and Transform Your Art Business
Discover the exact steps to follow, in order,
so you can sell more work,
worry less about "marketing" and "networking",
and ultimately spend more time in your studio making art.
Only 200 spots are available for the live session.
Click here to reserve your seat.
Looking forward to seeing you there!
P.S. If you were lucky enough to have a great studio teacher or mentor,
you know the value of expert guidance.
Even a small tip — like how you're holding a brush —
can suddenly make things so much easier.
Join us for our webinar, and gain some insights
on how to improve results in your career as a professional artist.
Click here to reserve your spot for our webinar
5 Steps to Grow and Transform the Business Side Of Your Art
Only 200 seats available for this one — claim yours now!